Our Cave to Co-op for November 2019 is a raw Jersey cow milk, extra-aged cheese by cheesemaker, Jeannine Kilbride, Cobb Hill Farm in Hartland Four Corners, Vermont.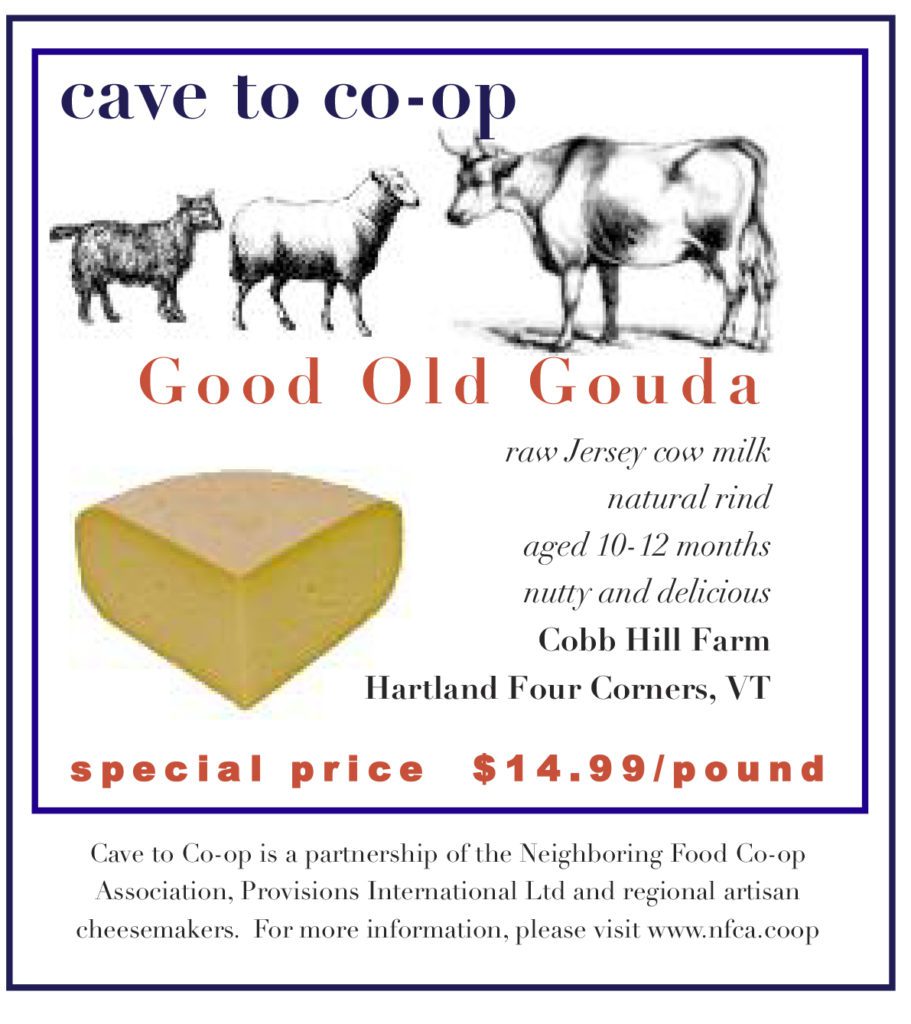 Cobb Hill is an intentionally planned community in Hartland Four Corners, begun by Donella Meadows, renowned founder of the Sustainability Institute. In 1997 two local dairy farms were purchased and merged into a 260 acre co-operative community and farm. The community members are all dedicated to living in ways that are socially and ecologically responsible. Cobb Hill cheese is made from the raw milk of their grass-fed Jersey cow herd. Cobb Hill cheesemakers follow the age-old process of heating milk, adding lactic bacteria and vegetable rennet, hand stirring the curd, hooping and pressing, then aging to perfection.
All of their cheeses are made from raw milk from pastured Jersey cows that are bred and raised at Cobb Hill Farm by their dairy enterprise partners Cedar Mountain Farm. From May to September the herd grazes on pasture maintained without artificial pesticides or fertilizers. During the non-pasture season, the Jerseys eat hay from our own fields and neighboring farms.
Use Good Old Gouda in your favorite recipe calling for a gouda and try it in this cheese-filled pastry.
RECIPE
Gouda Puff Pastries – Kassbroodjes
Makes 6
Ingredients
2 sheets puff pastry
1 T unsalted butter
1 T all-purpose flour
½ cup milk
½ t Dijon mustard
1 cup grated Good Old Gouda
1 egg mixed with 2 T water for egg wash
6 slices ham or prosciutto – optional
Directions
1. Pre-heat oven to 400°F. Line a baking sheet with parchment paper.
2. Place butter in a saucepan over low-medium heat. When the butter is melted, whisk in the flour until well incorporated. Cook, stirring, for one minute. Add milk and whisk to mix. Add mustard and a pinch of salt. Continue whisking as the mixture thickens, cooking for about 10 minutes or so. Set aside.
3. Divide the puff pastry into 12 equal rectangles. Place 6 of them on the baking sheet.
4. If using ham, place a slice on each rectangle, top with 1 tablespoon of the sauce and the 2 tablespoons of cheese. Leave a bit of an edge around the outside of each rectangle.
5. Brush the edge with the egg wash and cover with the remaining dough rectangles. Seal the edges with a fork. Brush the tops with egg wash and top with the remaining cheese.
6. Bake for 15-20 minutes until golden brown. Let them cool slightly then serve.