DELI, PRODUCE, MEAT & SEAFOOD DEPARTMENTS
Produce Department
We pride ourselves on the diversity of local, seasonal, and global produce available on our shelves. Our focus is on certified organic, seasonally fresh, and local produce from Keene, NH and the surrounding area. This helps to fulfill our mission of supporting local, sustainable agriculture. We receive fresh produce, including organic fruits, local greens, and vegetables, over 10 times per week, ensuring you receive the freshest, tastiest produce available in our community. Come visit us at 34 Cypress Street in Keene, NH!
One of the best parts of our job is building relationships with local growers, most of whom deliver directly to our co-op. Our growers often visit the store, providing samples of their delicious produce, and getting to know the people who support them — our shoppers.
Bulk Produce Pre-Orders
Monadnock Food Co-op gladly accepts orders of case quantities and items not stocked on our shelves. Visit our bulk pre-order page here for more information.
Bulk Orders Department
If you're seeking a way to save money and try smaller portions of ingredients before committing to a whole package, bulk is your answer. From nuts, beans, spices, herbs, and cereals to mixes, flours, sugars, oils, coffees, teas, and nut butters, we offer an abundant selection of foods and ingredients available for purchase in bulk.
How It Works
Grab a container.
Fill the container with the product of your choice.
Write down or snap a picture of the PLU number.
Give the PLU number to your cashier at checkout.
That's all there is to it! And if you don't have time to package them yourself or want individually pre-packed options, we offer a selection of those options as well.
Bulk Orders
Our Keene,NH Co-op gladly accepts orders of case quantities and items not stocked on our shelves. Visit our bulk orders form for more information.
Grocery Department
We strive to source only the finest natural and organic foods, ethnic products, and gourmet choices for our customers.
We carry all of the grocery essentials, green cleaning and paper products, healthy pet foods, and many seasonal treats. Our selection of products for special diets and allergies, such as vegan, gluten-free, and paleo is also always growing.
Local Eggs & Dairy
Our amazing selection of local eggs & produce from Keene, NH, is a big reason shoppers first stop into our store, includes organic, free-range, and soy-free options and even local duck eggs. Our milk selection is also hugely popular with offerings from local Manning Hill Farm and McNamara Farm in glass returnable bottles as well as a huge assortment of organic, raw, and alternative milk. We also offer a large selection of butter, cottage cheese, yogurt, juice in organic and natural varieties, and even vegan dairy substitutes.
Special Orders
Monadnock Food Co-op gladly accepts special orders of case quantities and items not stocked on our shelves. Visit our special orders page here for more information.

Order now
Health & Wellness Products
Fighting the sniffles, just not feeling your best, or looking for chemical-free body care products for yourself or your family? Our wellness department is stocked with a wide range of natural wellness products that vary from herbal and homeopathic remedies, essential oils, vitamins & supplements, alternative health products, and personal care and hygiene products. If you don't know where to start, ask our knowledgeable co-op staff to help you.
Vitamins & Supplements
We stock a broad selection of affordable supplements, including Nordic Naturals, Rainbow Light, and others, plus our own private label supplements at our co-op in Keene, NH. Products include:
CBD Oil
Antioxidants
Organic Tinctures
Probiotics & EFA's
Immune Support
Protein Powders & Green Foods
Allergy Support
Prenatals
Stop by and shop our health & wellness products!

Order body care

Order VITAMINS & SUPPLEMENTS
Meat & Seafood Department
Our goal is to work directly with local and regional farmers who are dedicated to the "triple bottom line"—caring for people (and animals), our planet, and profit. To meet this goal, we work directly with many small, local farms and often visit their operations to see firsthand that the animals are raised humanely and naturally because it results in a better-tasting, more nutrient-dense product, a better environment, and a better local economy.
We carry beef, pork, lamb, bison, chicken, turkey, duck, fish, and seafood, and most are available both frozen and fresh.
Available Local Meats
We offer the largest selection of high-quality, locally sourced, nutrient-dense meats in the Monadnock Region. Our partner farms include Archway Farm, Mayfair Farm, Tensen Farm, Boyden Farm, Five Sigma Farm, and more.
Special Orders
We will gladly order items not stocked on our shelves. Visit our special orders page here for more information.

Order meat

Order seafood
Prepared Foods Department
Everything we make is from scratch with ingredients found in our kitchen homes, so no food additives or preservatives you can't pronounce. We also use organic or local ingredients as often as possible in all menus from breakfast to dessert. Vegetarian, vegan, and gluten-free options are available. If you have any questions about our ingredients don't hesitate to ask one of our staff members. Stop in today to find your new favorite sandwich or dish!
Deli Department Hours
Beverage Bar: 7AM – 1PM
Sandwich Bar: 7AM – 7PM
Bowls: 11AM – 7PM
Hot Bar: 11AM – 7PM
Catering
Our Keene, NH Food Co-op offers catering and party platters for all occasions. Please see our catering menu here for more information.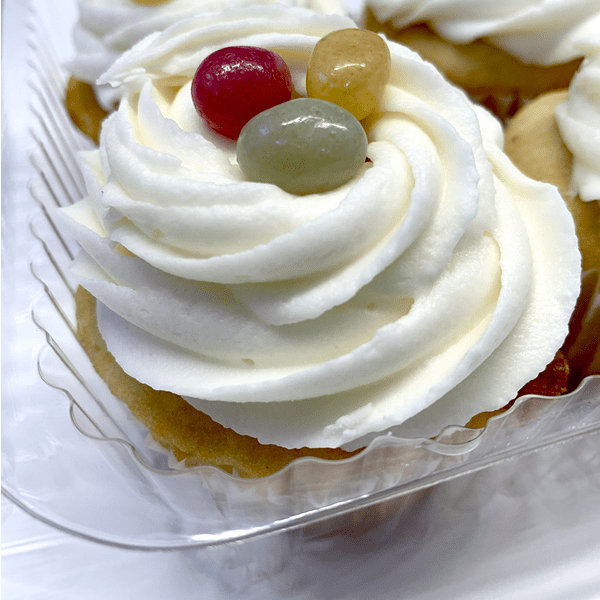 Bakery Department
House-made Treats
In our bakery, you'll find fresh-baked treats, vegan and gluten-free options included, made from scratch daily by our in-house bakers. Some include:
Scones, muffins, and other breakfast treats
Cupcakes, whoopie pies, and other seasonal breads and cookies
Our famous black bean brownies, squirrel bars
Need baked goods for your next meeting or party? Consider ordering special treats from our catering program.
Breads, Buns, & More
We believe an incredible bread makes all the difference when making a sandwich. That's why you'll find a large selection of artisan breads, buns, and bagels from local and national bakeries in the bakery section and on our grocery shelves. Available brands include Orchard Hill Breadworks, The Bread Shed, Firedog Bakery, Dave's Killer Bread, Udi's, Silver Hills, and more. Vegan and gluten-free options are also stocked.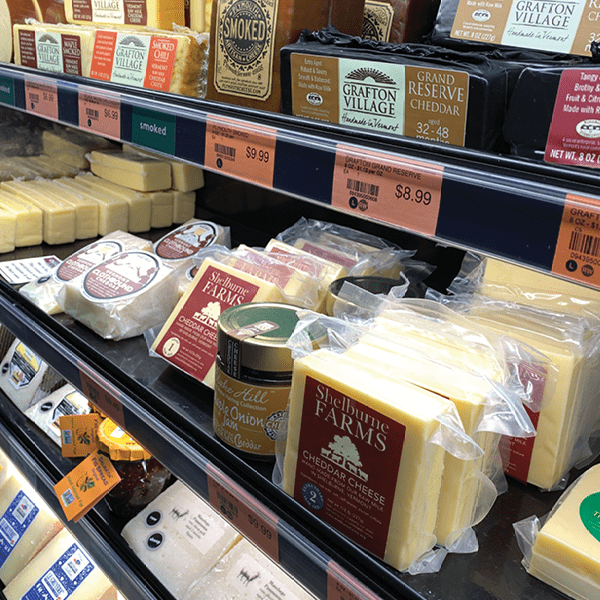 Cheese Department
From gouda to aged cheddar and creamy brie to chèvre, our cheese department is stocked with the best assortment of local and regional cheeses you'll love.
Local Cheeses
We offer an extensive selection of handcrafted cheeses from local cheesemakers. The list goes on and on, but some of our most popular brands include:
Cabot Creamery Co-op
Grafton Village
Jasper Hill Farm
Maplebrook Farm
Vermont Creamery
You'll also find a selection of international cheeses like Manchego from Spain, Gruyere from Switzerland, D'affinois from France, Goat Goudas from Holland and Gorgonzola, Romano, and Parmiggiano Reggiano from Italy.
We will happily suggest an array of cheeses for your own cheese boards or make cheese platters ourselves for your events. Visit our catering page here.

Order now
Beverage Bar
Our beverage bar is brewing freshly ground organic coffee every day and making lattes, cappuccinos, and brewing teas just the way you like them.  In addition, we're blending smoothies and juices with fresh, organic fruits and vegetables.
Beer & Wine Department
We know good wine! We carry wines produced locally in New England, plus a healthy selection from the United States and beyond. A few of brand favorites include:
We also know good beer and ciders. From crisp summer ales to dark, delicious porters, we have the brew for you! Our shelves are stocked with a wide selection of beverages from local breweries, as well as quality independent microbreweries from around New England and beyond.
The unique, high-quality beverages we carry are the kind you won't find just anywhere. We strive to promote small, local, and cooperatively-managed breweries, wineries, hard kombuchas, and spiked waters run by artisans who make their products with love, time, and craft.
Bulk Pre-Orders
Monadnock Food Co-op gladly accepts special orders of case quantities. Visit our bulk pre-orders page here for more information.