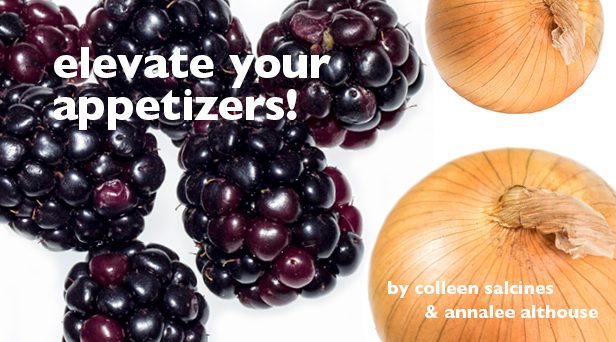 Have you ever wondered, "what can I bring as an appetizer that is different but easy?" There is nothing wrong with cheese and crackers or chips and dip but what if you want to mix things up? We want to take the cheese and cracker and chip and dip to the next level elevating each appetizer with fresh and exciting flavors that may make you the G.O.A.T. (aka, The Greatest of All Time) when it comes to party snacks.
Our first recipe is a Blackberry Sweet Onion Jam Crostini. In every bite, you will taste sweet, salty, tangy, and smoky flavors from a fresh, crusty baguette topped with a parmesan-ricotta spread, organic blackberry-sweet onion jam and a sprinkle of crispy bacon crumbles.
Blackberries originally came from the northern temperate areas of the globe. It is the official fruit of the state of Alabama and is found copiously in North America and the Pacific Coast. Blackberries were used by the Roman and Greeks for healing numerous health conditions ranging from infections to venomous bites. It even was known as the "gout berry" for its powers in treating gout. Today, we know that blackberries are packed with antioxidants, like phenolic acids, flavonoids, flavanols, and anthocyanosises, which work against harmful oxygen-free radicals. This protective action protects the body from a range of diseases caused by oxidative damage. With a great source of both soluble and insoluble fiber, blackberries are also essential for the optimum functioning of the digestive system.
Onions are part of the allium family of vegetables which also includes garlic, scallions, leeks, and chives. Sweet, white, and red onions share the quality of having high sugar content. This high sugar content translates to a short shelf life, lasting only two days on the counter or if refrigerated, lasting up to a month. Onions are more known to be a household staple but they are also considered a powerful superfood. One cup of chopped onion provides at least 13% of a healthy adult's recommended daily intake of Vitamin C improving immunity. The sulfuric compounds found in onions act as a natural blood thinner, assisting in preventing blood platelets from clotting which can help to lower blood pressure decreasing the risk of heart attacks and strokes.
Our second recipe is a Fresh Cucumber Salsa. This dip is brought to a new level by using cucumbers bringing a refreshing, cool crunch and organic mini sweet peppers adding sweet bursts of flavor, not to mention pops of intense color!
Organic Mini Sweet Peppers are small but mighty, both super sweet and adorable in size. Mini sweet peppers originated from central and South America and are believed to be a hybrid from the wild bird pepper and bell pepper. They are grown year-round on small bushes and are favored for their small size, bright colors, and sweet flavor. Today, they are grown in Mexico's western coast, Baja, California, and Florida.
While you may not think there is much of a difference, mini sweet peppers are sweeter than your average bell pepper. These peppers are a great source of Vitamin C and beta-carotene, a precursor for Vitamin A. The red peppers actually contain 11x more beta-carotene and 1.5 times more Vitamin C than the green variety. Vitamin C is typically grouped with strengthening the immune system, but it is also required for the biosynthesis of collagen, an important component of our connective tissue, playing an important role in wound healing. Beta carotene and Vitamin A are critical for vision health and cell development as some of these cells play other important roles in normal function/maintenance of the heart, lungs, kidneys, and other organs.
We don't know about you, but our mouths are already watering from just the sound of these recipes, so enjoy the appetizers, and party on!
Blackberry-Sweet Onion Jam Crostini

Makes about 24
Photo credit and recipe adapted from Southern Lady Magazine
Ingredients
1 T olive oil
1 cup chopped sweet onion
1 lb fresh blackberries
¼ cup firmly packed light brown sugar
2 T distilled white vinegar
½ tsp kosher salt, divided
½ tsp ground black pepper, divided
1 cup whole-milk ricotta cheese
¼ cup freshly grated Parmesan cheese
2 T chopped fresh chives
Toasted baguette, sliced ¾ inch thick
Crumbled Bacon (Optional)
Directions
1. Heat skillet to medium heat with olive oil, once hot add onion to skillet; cook until softened, about 6 minutes. Add blackberries, brown sugar, vinegar, ¼ teaspoon salt, and ¼ teaspoon pepper. Using a potato masher, mash blackberries. Bring mixture to a boil; reduce heat, and simmer, stirring occasionally, until thickened, about 40 minutes. Spoon mixture into a bowl; let cool completely.
2. In a small bowl, stir together ricotta, Parmesan, chives, remaining ¼ teaspoon salt, and remaining ¼ teaspoon pepper. Spread about 2 teaspoons cheese mixture onto each baguette slice. Top with about 1 tablespoon blackberry mixture. Crumble bacon, and sprinkle over crostini. Sprinkle with additional pepper, to taste. Serve immediately.
Fresh Cucumber Salsa
Photo credit and recipe adapted from lovebugsandpostcards.com
Ingredients
5 large tomatoes, diced
1 bunch of green onions, diced
3 mini sweet peppers, diced
⅓ cucumber, diced
½ red onion, diced
Juice of ½ of a lime
Salt and pepper to taste
2 T of chopped fresh cilantro (optional)
Directions
Mix all ingredients together and serve with fresh chips!
(Also, makes a great side to any meal.)
Sources:
https://www.specialtyproduce.com/produce/Bell_Peppers_Mix_Mini_Sweet_2662.php
https://ods.od.nih.gov/factsheets/VitaminA-HealthProfessional/
https://www.organicfacts.net/health-benefits/fruit/blackberries.html