During these uncertain times, one thing is certain, spring is in full swing, and summer is peeking its head around the corner, giving us more chances to get outside for some much-needed Vitamin D! Making health a priority during a pandemic doesn't have to be difficult or expensive. These easy recipes can help you to decrease the risk for nutrient deficiencies, associated with immune function.
Our first recipe is fresh, delicious, and incorporates summer squash, one of the oldest known crops, and the ever-creamy fruit, the avocado. This recipe is a simple Chicken Salad with Summer Squash and Avocado that packs some great flavor.
Avocados are a great source of heart-healthy fats, fiber, and potassium. They contain monounsaturated and polyunsaturated fats shown to improve blood cholesterol levels by lowering LDL cholesterol. The potassium found in avocados is essential for electrolyte balance aiding in muscle movement and recovery.
The sautéed summer squash adds beautiful summer color to this salad. This yellow squash provides high amounts of vitamins, carotenoids, and fiber. Carotenoids give the squash its beautiful yellow color and are also great for our skin. Carotenoids are converted to vitamin A in the body; they support the skin from oxidative stress such as UV radiation exposure.
Our next recipe highlights Fuji apples. Fuji apples have it all – they're super sweet, wildly juicy, extremely crisp, and ideal for snacking. They contain pectin, a natural fiber found in most plants, and eating pectin-rich apples has a cholesterol-lowering effect in humans. Fuji apples are low on the glycemic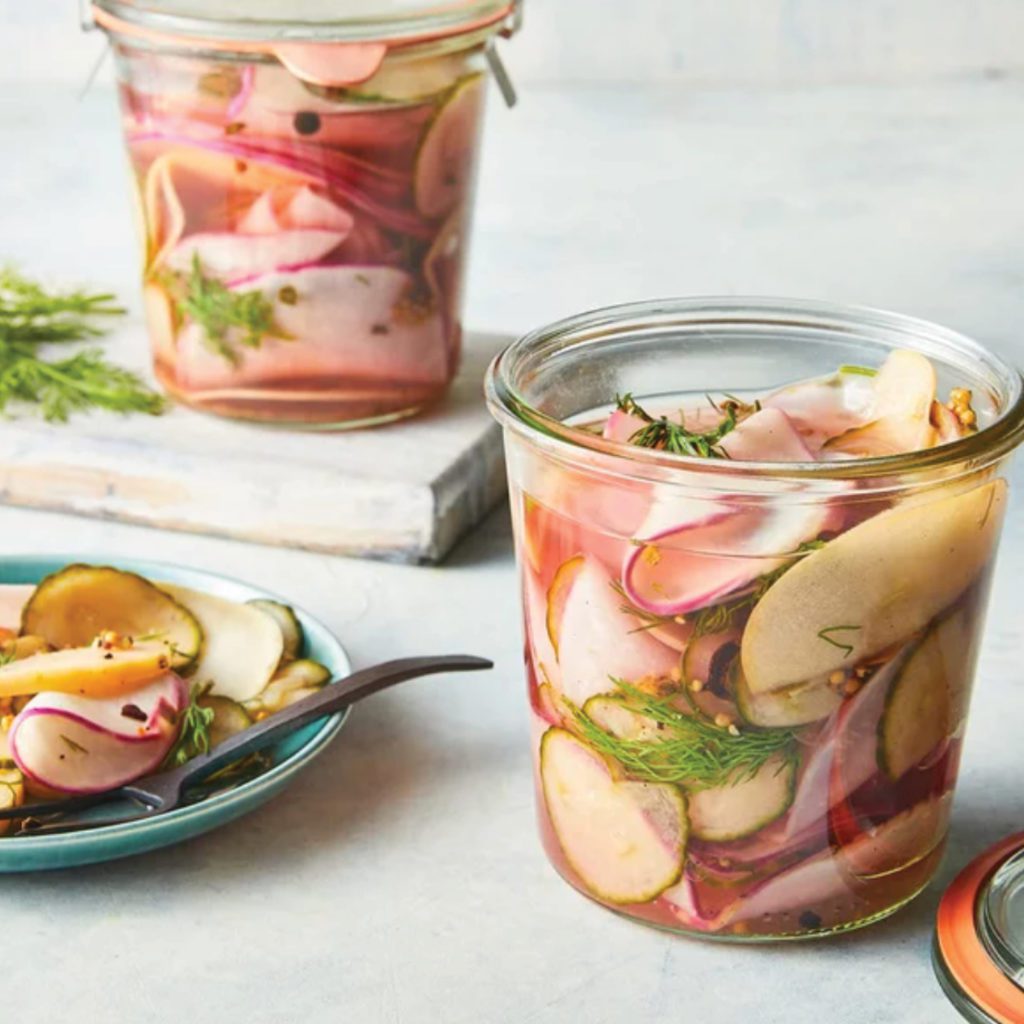 index due to the fiber content. This, together with their high flavonoid content, can significantly reduce the risk of heart attack and heart disease and may improve insulin sensitivity, which is important both for diabetes prevention. This recipe for Apple & Kohlrabi Quick Pickle makes an excellent topping for tacos, salads, a stir-fry, or even snazzing up an appetizer board.
All of these fresh produce items offer a great source of fiber. High fiber diets have been lauded for lowering blood sugar by slowing the rate sugar gets into the bloodstream. Fiber cleans your colon, acting like a scrub brush and helps clean out bacteria and other buildups in your intestines, and reduces your risk for colon cancer. The recommended daily intake of fiber is 25 grams a day for women and 35 grams for men, with most of us falling short of those goals. Avocado packs about 1 gram per tablespoon, with around 10 grams in an entire fruit.
Stay safe, everyone, and we hope you enjoy these recipes!
Chicken Salad with Summer Squash & Avocado
Photo credit: Todd Porter & Diane Cu. Recipe adapted from FoodandWine.com
Serves 2-3
Ingredients
1 lb cooked chicken (breasts, rotisserie, etc.)
1 T extra-virgin olive oil
2 cloves garlic, minced
1 lb summer squash such as yellow or zucchini, sliced
1 tsp Worcestershire sauce
1 tsp apple cider vinegar
¼ tsp kosher or sea salt, or to taste
Fresh cracked black pepper
1 medium avocado, diced
Directions
1. Dice or shred chicken into bite-sized pieces; set aside.
2. Heat a skillet over medium-high heat. Add the oil and then add the garlic. Cook for 1 minute or until softened.
3. Stir in the squash and cook for 2 to 3 minutes or until tender. Stir in the Worcestershire sauce, apple cider vinegar, and season with salt and pepper.
4. Toss the chicken in with the squash. Add the avocado and serve warm or at room temperature.
Apple & Kohlrabi Quick Pickles
Photo credit: Aaron Kirk. Recipe adapted from CookingLight.com
Makes 2 quarts pickles (Serving size: 2/3 cup)
Ingredients
2 cups rice vinegar
2 cups water
⅓ cup sugar
1 T salt
3 medium kohlrabi bulbs
2 small fuji apples, cored and thinly sliced
1 small cucumber, thinly sliced
4 garlic cloves
4 dill sprigs
1 tsp black pepper
¼ tsp crushed red pepper
Directions
1. Combine vinegar, water, sugar, and salt in a medium saucepan. Bring to a boil over medium-high, stirring occasionally, until sugar is dissolved.
2. Place kohlrabi, apple, cucumber, garlic, dill sprigs, pickling spice, black pepper, and crushed red pepper in a large bowl or 8-cup measuring cup. Pour hot vinegar mixture over kohlrabi mixture. Let stand and cool to room temperature, about 1 hour.
3. Transfer mixture evenly into 2 (1-quart) glass jars, covering kohlrabi mixture with vinegar mixture. Seal each jar with lid, and completely cool in the refrigerator, about 4 hours. Store in the refrigerator for up to 2 weeks.