Our Cave to Co-op for November 2021 is Butter Cheddar—a raw Jersey cow milk cheese that's mild, creamy, and delicate from Billings Farm in Woodstock, Vermont.
Billings Farm was established in 1871 by Frederick Billings, a native Vermonter known for his work as a lawyer, railroad builder, and pioneer in scientific farm management and reforestation. Billings set out to make his 270-acre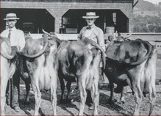 Woodstock farm a model dairy operation for farmers in the region, founded on the principles of efficiency, sustainability, and responsible land use. Now owned and operated by The Woodstock Foundation, Inc., a non-profit educational institution founded by Laurance and Mary Rockefeller in 1968, the Billings Farm & Museum was established in 1983 to preserve the historic Billings Farm as well as the character and heritage of rural Vermont.
After almost 70 years, Billings Farm is once again drawing upon its 150-year tradition of dairy excellence. Billings Farm Cheddar is made from 100% raw milk exclusively from the Billings herd of over 40 purebred registered Jersey cows, with no additives, preservatives, or artificial coloring.
Caring for Billings' herd is a family affair; Farm Manager Chuck leads the team, followed by his son Matt, the Assistant Farm Manager in charge of genetics and milk Production. Daughter Emily is the lead milker, youngest son Brian cares for all the young animals, and Chuck's wife Amy is the farm's teamster.
Making cheese is one of the few things that Billings Farm does not do on-site. Instead, once every month, milk is brought to Grafton Village Cheese, where it is made into cheddar using Billings' recipe. The milk not made into cheese is sold to the Cabot Co-op and as fluid milk on the farm.
Butter Cheddar, also known as Butterkäse, is mild and creamy with a slightly salty or acidic taste reminiscent of Muenster or Gouda cheeses. Known for its delicate flavor, it literally melts in your mouth.
Butter Cheddar is a very child-friendly cheese well suited to classics such as grilled cheese or mac & cheese. Try one of these recipes to see how versatile Butter Cheddar can be in the kitchen.
The Lisa Marie Grilled Cheese
Ingredients

8 slices bacon
4 T brown sugar
4 T maple syrup
4 T butter, at room temperature
4 thick slices of firm white bread
8 T peanut butter
4 oz block of Butter Cheddar, sliced into 4 pieces
2-3 bananas, sliced or chunked
1 cup hot fudge or chocolate sauce
Directions
1. Pre-heat oven to 350°
2. Place bacon slices on a baking sheet pan with sides and bake until lightly browned and starting to crisp about 5-6 minutes. Meanwhile, mix brown sugar and maple syrup until smooth. Brush hot bacon slices with the mixture using a pastry brush. Return to oven for another 5-6 minutes, turning once and being careful not to burn sugar. Remove to a cooling rack and let cool.
3. Heat griddle or sauté pan over medium heat. Butter one side of bread slices. Spread the other side with peanut butter. Top each slice, peanut butter-side up, with 1 Butterkäse slice and some banana slices. Place butter-side down on griddle and grill until sandwich bread bottoms are light golden brown. Cover the pan if cheese is not melting. Meanwhile, heat chocolate sauce until warm. Dip each slice of bacon into warm chocolate to cover half of the strip and place over bananas. To serve, drizzle with additional chocolate sauce.
Makes 4 'sandwiches'
Broccoli Cheddar Casserole  
Serves 4 to 6
Ingredients

2 lbs broccoli, trimmed and cut into chunks
2 pieces of bacon, cut into ¼ inch strips
5 eggs, beaten
⅓ cup all-purpose flour
½ cup cream
1 cup whole milk
fresh pepper and salt
1 tsp Dijon mustard
8 oz grated Billings Farm Butter Cheddar
Directions
1. Bring a large pot of salted water to a boil. Add the broccoli florets and boil for 3-5 minutes or until just tender enough so that a fork can easily pierce the floret but still firm. Strain and rinse with cold water to stop the cooking.
2. While the water in step one is coming to a boil, cook the bacon pieces on medium heat in a frying pan until lightly browned but not crisp. Remove to a plate lined with paper towels to absorb the excess fat. Set aside.
3. Preheat oven to 425°—butter a 2½ quart casserole dish.
4. In a bowl, whisk the eggs into the flour, then whisk in the cream and milk. Add the black pepper (more or less to taste), salt, and mustard. Mix in about a third of the cheese.
5. Place the parboiled broccoli florets in the casserole dish, sprinkling about a third of the cheese over the broccoli florets as you lay them down. Sprinkle the bacon pieces over the broccoli.
6. Pour the egg, cream, milk, cheese mixture over the broccoli, moving the broccoli pieces a bit so that the mixture gets into all the nooks and crannies. Sprinkle the casserole with the remaining cheese.
7. Bake for 25-40 minutes, until set. Once the top has browned, you may want to tent with aluminum foil to keep from burning.