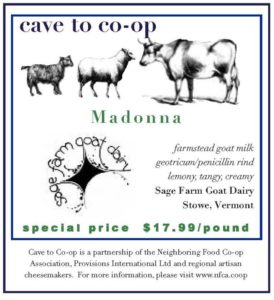 Our Cave to Co-op for May 2020 is Madonna — a small disc of ripened chèvre, aged for 2-3 weeks made with farmstead pasteurized milk by cheesemaker Molly Pindel at Sage Farm Goat Dairy in Stowe, Vermont.
Madonna has a snow-white geotrichum/penicillin rind and a lemony, tangy paste. Best eaten on its own in all its glory with nothing more than a crusty baguette.
Molly Pindell grew up in rural New Hampshire and worked for two years at the Haystack Mountain Goat Dairy in Boulder, Colorado for two years where she fell in love with goats and began learning the art of cheese making.
Sage Farm was started and is still run very much as a family farm with Molly and her sister Katie. Their two houses are located on either side of the milking barn. They try to divvy up the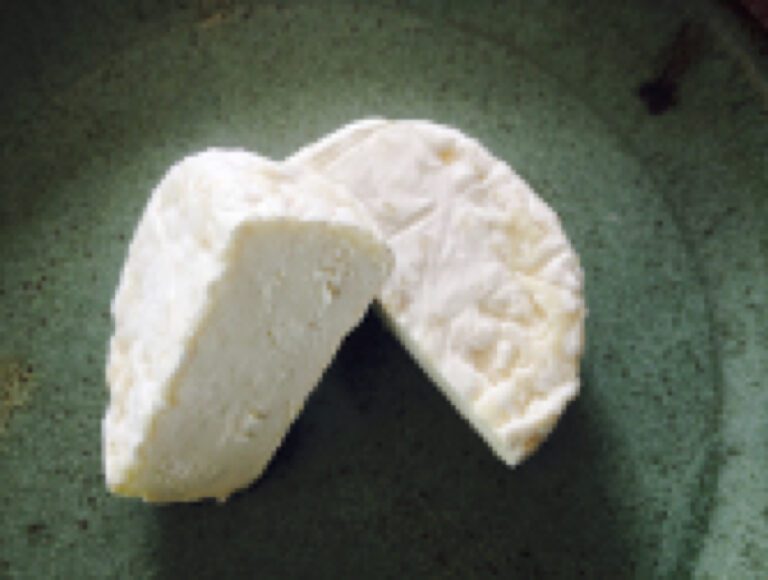 workload; Molly performs most of the cheese-making and aging and Katie manages the goats and the pastures. Dave keeps the books and enjoys tractor work, ranging from compost management to hauling firewood. Bob's endeavors include maple syrup production, cider-making, and keeping us all in a good sense of humor. Everyone pitches in selling and marketing their products, which include a variety of fresh and ripened goat milk cheese.