Our Cave to Co-op for July 2020 is Goat Halloumi — a pasteurized farmstead goat-milk, salt brined, rindless cheese by Caitlin Pettini, cheesemaker, at Black Rose Creamery in Rupert, Vermont.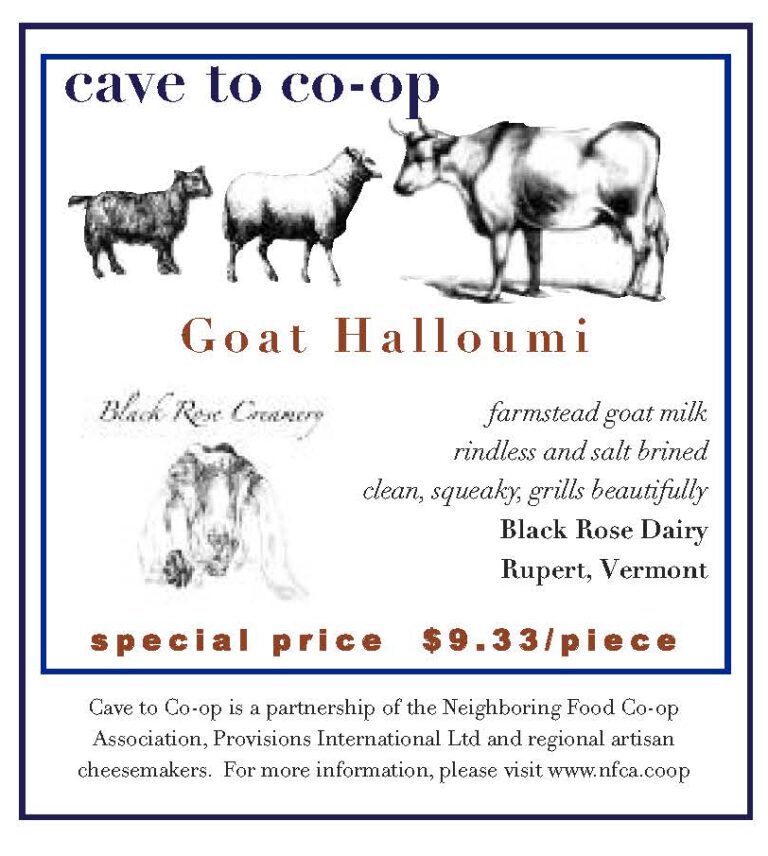 Black Rose Creamery is located at Róisín Dubh Farm in the town of Rupert, in southern Vermont. Cheesemaker Caitlin Pettini chooses to raise primarily Nubian goats as the breed is known for high-quality production and high butterfat content making their milk ideal for cheese making. The herd started out in 2009 with Frankie and Flynn, two Nubian wethers. Today Caitlin and her family milk forty Nubian and Nubian cross goats.
These little goats are their livelihood, so they are looked after with the utmost care. With acres to roam and hills to climb, Black Rose goats live a happy existence, munching on grass and underbrush as they laze about in the sun. As the health of the herd is paramount to efficient milk production, the goats are regularly immunized and tested for common diseases.
The farm puts great importance on socializing their goats to make certain the milking process is safe for both the goat and the milker. This process begins at birth by hand-feeding newborn kids and making sure they get plenty of cuddle time. As they grow older, Caitlin sits with them and brushes their coats frequently to maintain a trusting relationship. Oh, and don't forget the occasional watermelon rind or belly massage!
Black Rose Goat Milk Halloumi is a beautiful cheese. It keeps its shape when grilled or seared and is delicious, crisp on the outside and creamy, and squeaky on the inside. Try it on a salad or any variety of vegetable dishes. Perfect for summer. Here are some recipes.
RECIPES
Grilled Halloumi w/Blueberries & Herbs
Serves 4

Ingredients
3 T extra-virgin olive oil
2 T fresh lemon juice
2 t liquid honey
6 ounces fresh blueberries
¼ cup roasted hazelnuts, chopped
1 jalapeno pepper, seeds removed, minced
2 T fresh mint, chopped
2 T fresh cilantro, minced
8 ounces Black Rose Halloumi
1 T olive oil
Directions
1. In a small bowl, whisk together olive oil, lemon juice, honey, and black pepper.
2. In a separate bowl, toss blueberries with chopped hazelnuts, pepper, 1 tablespoon mint, and 1 tablespoon cilantro. Pour dressing over blueberry mixture and set aside.
3. In a large skillet, heat olive oil over medium-high heat and add 1 tablespoon olive oil. Add the halloumi and cook until golden, 2-3 minutes per side.
4. Place cheese on a plate, spoon blueberries over cheese slices, and finish with remaining herbs. Serve while halloumi is still warm.
Corn Fregula Salad with Grilled Halloumi
Serves 4

Ingredients

1 cup walnuts
1 cup fregula or large grain couscous
salt and fresh pepper
4 ears of corn
2 T plus ¼ C olive oil, divided
8 ounces Black Rose Halloumi cheese
3 scallions, thinly sliced
½ cup chopped fresh parsley
¼ cup chopped fresh basil
¼ cup chopped fresh mint
2 T fresh lemon juice
2 T white wine vinegar
Directions
1. Preheat oven to 350°.
2. Toast the walnuts on a baking sheet in the preheated oven for 8-10 minutes, until golden brown. After they are cool, chop them coarsely.
3. Cook the fregula or couscous according to package directions, then spread out on a baking sheet to cool.
4. Prepare a grill or pre-heat a grill pan. Rub the corn with 1 tablespoon of oil, salt, and pepper. Grill until lightly charred on all sides. Let cool.
5. Brush Halloumi with 1 tablespoon oil and grill, turning once, until lightly charred, about 5 minutes. Remove from the grill and let it cool.
6. Cut the kernels from the corn cobs and place in a serving bowl. Add scallions, herbs, walnuts, and fregula. Tear the Halloumi into bite-size pieces and add. Add lemon juice, vinegar, remaining ¼ cup of olive oil. Toss gently, adding more salt and pepper and vinegar to taste. Serve.