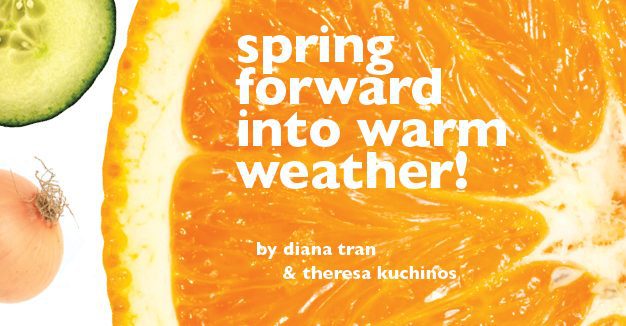 Now that the trees and daffodils are in bloom, we can be optimistic that summer may actually make an appearance after a long cold winter. So, let's prepare for sunny days ahead with a quick and easy Italian Pasta Salad—great for picnics—and light, refreshing Strawberry & Orange Salad.
Our first dish—Italian Pasta Salad—features an unstoppable tasty trio of juicy tomatoes, crisp European cucumbers, and sweet Vidalia onions. Not only is this trio bound to be a hit for the whole family, but they also pack great health benefits into every bite!
Tomatoes, known for adding their beautiful color to any dish, also add a variety of health benefits. Antioxidants, lycopene, are bountiful in tomatoes and encourages healthy skin, strong bones, and may even help battle cancer. It's also rich in Vitamins A, C, and K, which pack on even more benefits like supporting good vision, and a healthy immune system.
Cucumbers pack a punch of flavor and add texture while remaining low in calories. This recipe uses 2 cups of chopped cucumber and adds calcium along with potassium into the mix. In addition to benefiting our bones, calcium has been found to be helpful in preventing high blood pressure. However, the research also points to better effects from dietary calcium rather than from supplements! It has also found to be beneficial in preventing high blood pressure as potassium is key in our muscles functioning normally and regulating our heartbeat.
Vidalia onions add their characteristic sweet onion flavor while piling on the health benefits. High in Vitamin C, which is great for our immune system, they're also high in fiber which is associated with better heart health, better diabetes control, and bowel regulation.
Our second recipe—Strawberry & Orange Salad with a Citrus Syrup and Fresh Mint—is a quick, simple, and delicious way to increase your fruit, fiber, and water intake for the day. This vibrantly colorful fruit salad is perfect to serve on a warm day and bound to be an eye-catcher at any event!
Oranges are such a versatile fruit which can be used in smoothies, salads, or even sorbets. They are famous for being packed with Vitamin C, Folate, and Potassium. One large orange provides 78% of the Recommended Daily Intake of Vitamin C.  Vitamin C is a powerful antioxidant, which is a substance that helps fight off cell damage. Additionally, Vitamin C helps with the absorption of iron from plant-based foods. Folate is a B-vitamin (also known as vitamin B9) that allows our cells to develop properly. Think of folate as being a vitamin that helps with repairs to make our cells happy. Potassium is extremely important for our heart, muscle, kidney, and nerve health. It has a strong relationship with sodium and helps maintain a good balance of both nutrients in our bodies.
Mint is typically used as a garnish for desserts, however, this fruit salad integrates it in the entire dish to add a depth of flavor in contrast to the natural sweetness of the oranges and strawberries. Mint is actually a great source of Vitamin A, which is a vitamin that is responsible for the maintenance of our vision and the immune system. One-third of a cup of mint contains 12% of the Recommended Daily Intake. So, it's important that we make efforts to make sure that we are getting enough Vitamin A in our diets so we can keep our vision and immune system strong and healthy.
This week's demo highlights navel oranges, European cucumbers, and Vidalia sweet onions which can all be found on sale at the co-op this week. We're really excited to make these recipes, so we hope to see you there!
Strawberry & Orange Salad w/Citrus Syrup
Photo credit and adapted from onceuponachef.com
Ingredients
1 lb strawberries, hulled & halved
3 oranges
1 tablespoon fresh lemon juice, plus more to taste
2 tablespoons agave syrup
1 tablespoon finely chopped mint
Directions
1. Place the strawberries into a serving bowl.
2. Cut a slice off the top and bottom of each orange so they sit flat on a cutting board. Using a sharp knife, work your way around the fruits to remove all the skin and pith. Over a separate small bowl, firmly squeeze the remaining membranes to release all the orange juice.
3. Add the lemon juice and agave to the freshly squeezed orange juice and stir.
4. Pour over the strawberries and orange segments and gently toss to combine. Sprinkle with fresh mint.
5. Refrigerate for at least 30 minutes or up to six hours. Garnish with a sprig of fresh mint and serve in shallow bowls with spoons.
Italian Pasta Salad w/Tomatoes, Cucumbers & Olives
Photo credit and adapted from barefeetinthekitchen.com
Ingredients
8 ounces mini penne pasta or regular penne pasta (gluten-free)
4 cups grape or cherry tomatoes, halved (red or yellow is fine)
½ cup olive oil
¼ cup red wine vinegar
3 cloves garlic, minced
1 teaspoon kosher salt, adjust to taste
1 teaspoon fresh black pepper, adjust to taste
2 cups cucumbers, chopped small
6 ounce can whole black olives, drained and halved
¼ cup red onion, sliced very thin and chopped small
10 large fresh basil leaves, sliced very thin, about 2 tablespoons
2 tablespoons fresh Italian parsley, chopped small
Directions
1. Bring a large pot of water to a boil along with 1 tablespoon kosher salt. Cook the pasta according to the package directions. Drain, but do not rinse the pasta.
2. While the pasta is cooking, combine the tomatoes, oil, vinegar, garlic, salt, and pepper in a medium-size bowl. Stir and let sit while assembling the rest of the salad.
3. In a large mixing bowl, combine the cucumbers, olives, red onion, and cooked pasta. Add the tomatoes and all of the juices from the bowl. Stir to coat everything in the dressing.
4. Sprinkle with basil and parsley and toss again. Taste the salad and add more salt and pepper as needed. Serve or refrigerator until ready to eat. Enjoy!