As the weather warms up, spring is brightening Mother Earth and we really beginning to feel summer trying to shine through. We are sharing a summery "not-your-average" fruit salad recipe with watermelon, blueberries, and feta cheese that offers both sweetness and saltiness in the same bite!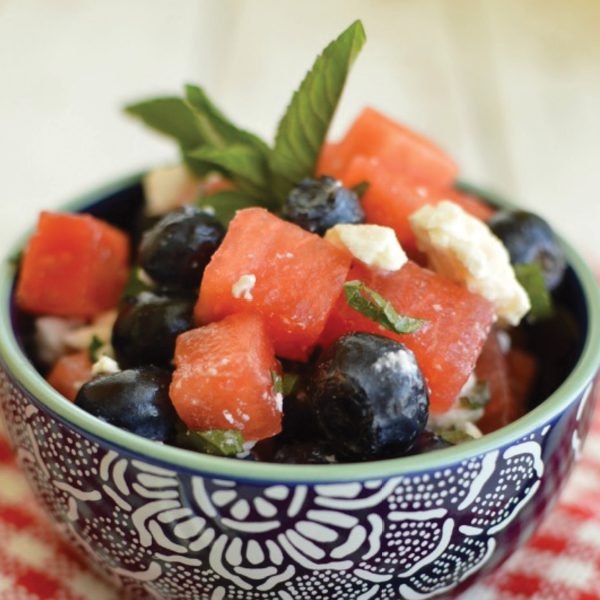 Blueberries are an excellent source of vitamin C, which helps protect cells against damage and aids in the absorption of iron. The health benefits of blueberries are due mainly to anthocyanins and antioxidants found in red/purple fruits and vegetables. Research shows that anthocyanins are highly active phytonutrients transported in the bloodstream, where they act on blood vessels throughout the body and collagen to reinforce and preserve it. This action has linked anthocyanins to a reduction in cardiovascular disease by protecting the vessels around the heart.
Watermelon can credit its gorgeous pink-red hue to the antioxidant lycopene. Cancer-fighting antioxidants, such as lycopene, may help to keep arteries flexible, hinder the progression of artery-clogging plaque, and may even help reduce blood pressure. One serving of watermelon has about 23 mg of vitamin C, which is about 30 percent of your recommended daily intake. Vitamin C plays a crucial role in helping your immune system and helping the body to form collagen, the protein that keeps skin healthy and eyesight sharp. Watermelon is an excellent source of hydration. It is 92% water, a wonderful added benefit as the weather heats up!
Speaking of hydration, we are also highlighting the Vidalia onion this week, which also has a high water content The Vidalia onion is also characterized by its sweetness and low pungency due to less sulfur than other onion varieties. The Vidalia onion got its name from the town they were discovered during the Great Depression and where they continue to grow today, Vidalia, Georgia. It is also the official state vegetable of Georgia, and the most sought-after onion commercially and is extremely versatile.
With summer approaching quickly, making a homemade sweet onion salad dressing to have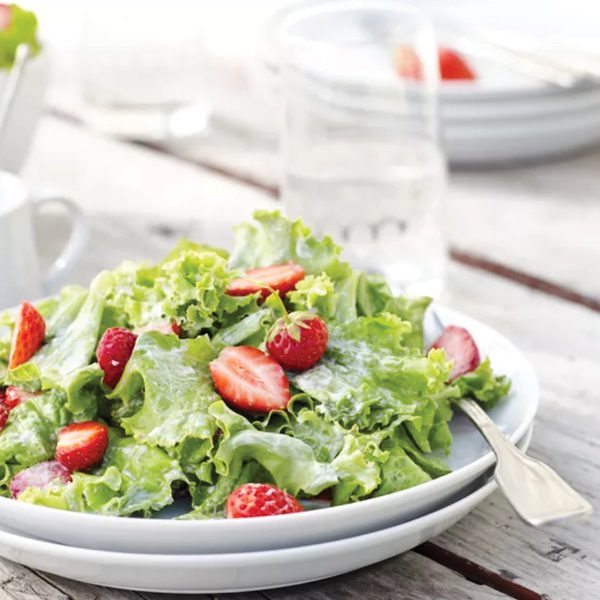 on hand is both delicious and nutritious! These types of onions are low in fat, cholesterol, and sodium and are higher in folate, vitamin C and vitamin B-6 than red onions. In fact, ½ cup of chopped Vidalia onions contains 8 percent of your recommended daily intake of folate, 10 percent of your recommended daily intake of vitamin C, and 12 percent of your recommended daily intake of vitamin B-6.
Thanks to controlled temperature and atmospheric storage, these onions can be found year-round. When choosing these types of onions, look for uniform, medium-sized onions without sprouts, blotches, or softness to them. When storing Vidalia onions, it is essential to remember that they have a higher moisture content, so they should be stored either in the refrigerator wrapped individually in paper towels or in a cool, dry, well-ventilated area in the legs of clean, sheer pantyhose with a knot tied between each onion.
Watermelon Blueberry Feta Salad
Recipe adapted and photo from littledairyontheprairie.com
Ingredients
6 cups cubed watermelon
2 cups fresh blueberries
1 cup feta cheese crumbled
2 T fresh mint or basil, chiffonade
2 T fresh lime juice
1 T fresh lemon juice
3 T olive oil
1 T honey
salt and pepper to taste
Directions
1. Add cubed watermelon, blueberries, feta, and mint (or basil) to a large bowl.
2. In a separate small bowl, add lime juice, lemon juice, olive oil, honey, salt, and pepper. Whisk until blended. Add more salt and pepper to taste.
3. Just before serving toss fruit and cheese together. Drizzle with dressing and toss again to coat fruit with dressing. Serve immediately.
Sweet Onion Salad Dressing



Recipe adapted and photo from thespruceeats.com
Makes 1½ cups
Ingredients
1 cup sugar
1 tsp salt
¼ teas dry mustard
¼ teas celery seed
1 med Vidalia onion, grated
2 T vegetable oil
½ cup vinegar
Directions
1. In a saucepan, combine sugar, salt, mustard, and celery seed.
2. Add grated sweet onion, oil, and vinegar. Heat until sugar is melted.
3. Cool and refrigerate, or serve as a warm dressing.