Our Cave to Co-op for September 2020 is an organic Extra Sharp Cheddar from Neighborly Farms in Randolph Center, Vermont.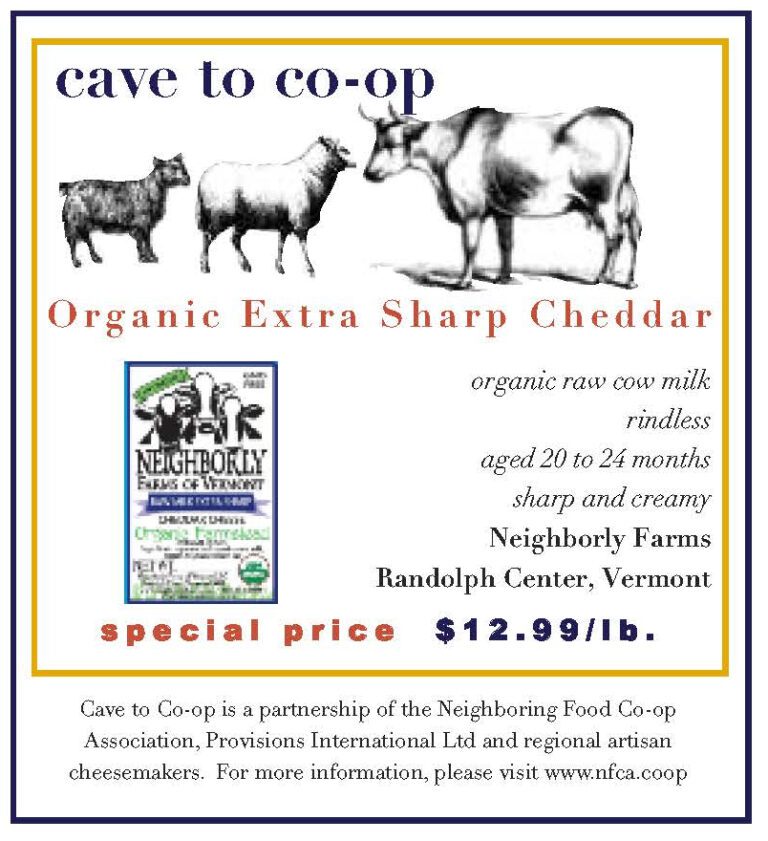 Established as an operating dairy farm in the 1920s, cheesemakers Rob and Linda Dimmick are continuing this tradition of family farming. Nestled in the rolling hills of Randolph Center, Vermont, Neighborly Farms decorates the countryside with its red barn and white post and beam farmhouse built in the 1800s. The Dimmicks operate on 168 acres with cropland and grazing fields to support the dairy and a sugarhouse for producing pure Vermont maple syrup. The clean and tidy barn is home to 70 Holsteins—the black and white cows that symbolize rural living at its very best.
Rob and Linda are continuing the family farming tradition because they have a passion for the land and animals. They are an organic farm. This means the farm is run in complete harmony with the land and the animals; no antibiotics, no hormones, and no commercial fertilizers — just pure and natural techniques that keep the cows healthy, happy, and dairy products wholesome and chemical-free. It means that the cheese produced at Neighborly Farms; Cheddars, Feta, Colby, and Monterey Jack, are pure and natural. The organic cheeses taste great, too!
Cheddar Grits from Ina Garten

Serves 6
Ingredients
2 teaspoons Kosher salt
1 cup fine quick-cooking grits (not instant)
1¼ cups half and half
2 T unsalted butter
1½ cups grated aged sharp Cheddar cheese
½ cup chopped scallions, white and green parts (4 scallions)
½ teaspoons freshly ground black pepper
Grated Extra Sharp Cheddar, for garnish
Chopped scallions or bacon, for garnish
Directions
1. Bring 4 cups of water to a boil in a heavy 4-quart saucepan. Add the salt, then slowly add the grits in a thin, steady stream, stirring constantly with a wooden spoon. Reduce
the heat to low and simmer, stirring occasionally, until the grits thicken, about 5 to 7
minutes.
2. Add the half-and-half and butter to the grits and stir. The mixture will seem thin but it will thicken as it cooks. Bring to a simmer, stirring occasionally. Cover the pot,
reduce the heat to low, and cook, stirring occasionally for 45 minutes, until very smooth and creamy.
3. Off the heat, stir in the Cheddar, scallions, and pepper. Season to taste and serve hot with a sprinkle of grated cheese and scallions.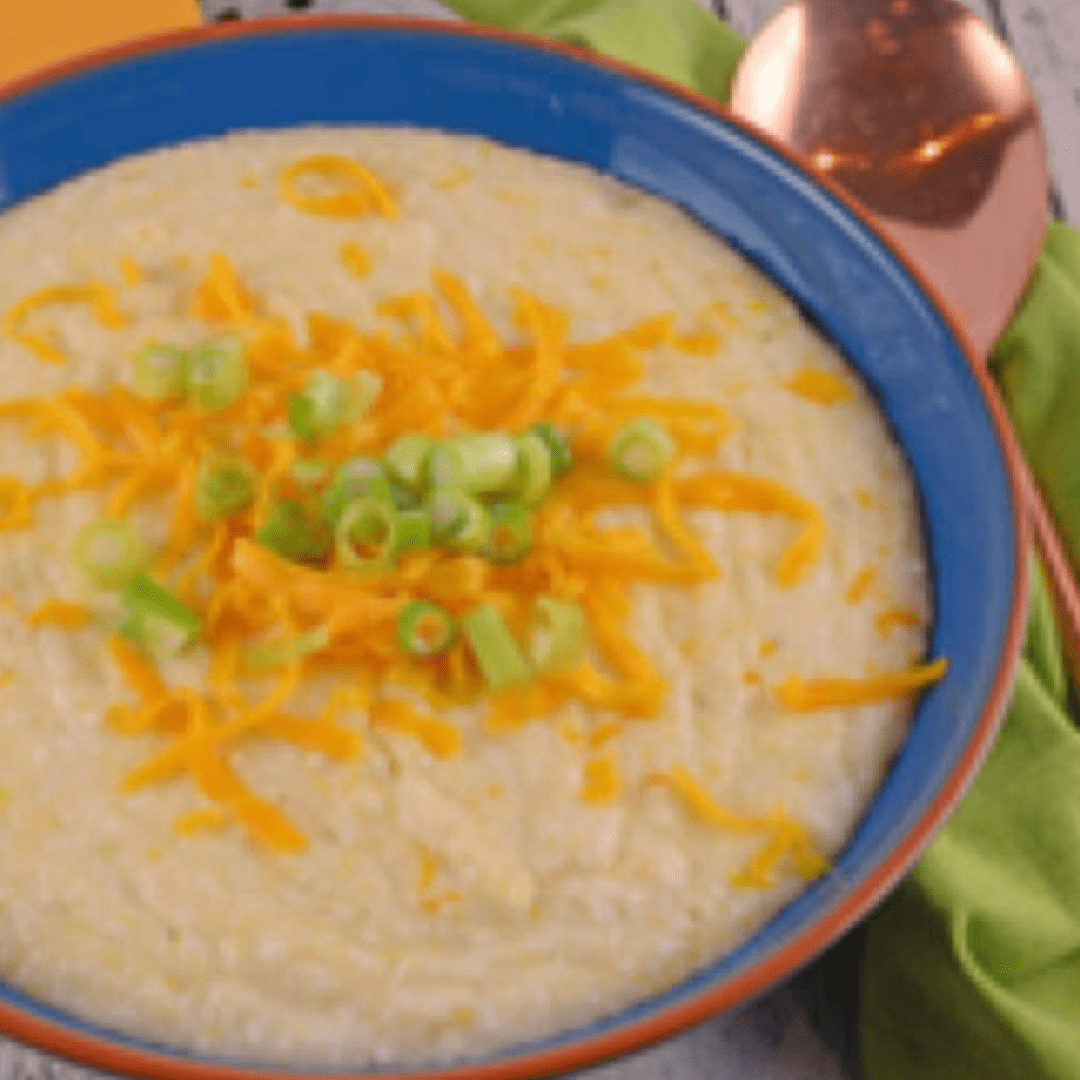 Cheddar Cheese Puffs

Makes 36 puffs

Ingredients
1 stick (8 T) unsalted butter, cut into pieces
½ teaspoon salt
1 cup all-purpose flour
4 large eggs, room temp
1½ teaspoons dry mustard
¼ teaspoons cayenne pepper
1½ cups (6 oz) shredded Neighborly Farms Extra Sharp Cheddar
Directions
1. Preheat oven to 375 degrees. Line two baking sheets with parchment paper. In a medium heavy saucepan combine 1 cup water, butter and salt, and bring to a boil. Turn off heat and add flour. Mix with a wooden spoon until dough starts to pull away from sides of pan and form a lump. Set aside, without stirring, 5 minutes.
2. Add eggs 1 at a time, mixing well after each addition. Dough will look glossy and slick at first; let it come together before adding next egg. Mix in mustard, cayenne and cheese. Dough will be quite loose and sticky.
3. Scoop up a heaping teaspoon of dough and use another spoon to scrape it onto lined pan; it should form a mound about an inch in diameter.
4.Bake until puffy and golden, about 25 minutes, rotating pans halfway through. Remove from oven and serve immediately.