Our Cave to Co-op for May 2022 is Marinated Feta from West River Creamery, Londonderry, Vermont.

West River Creamery is nestled between three mountains in Londonderry, Vermont.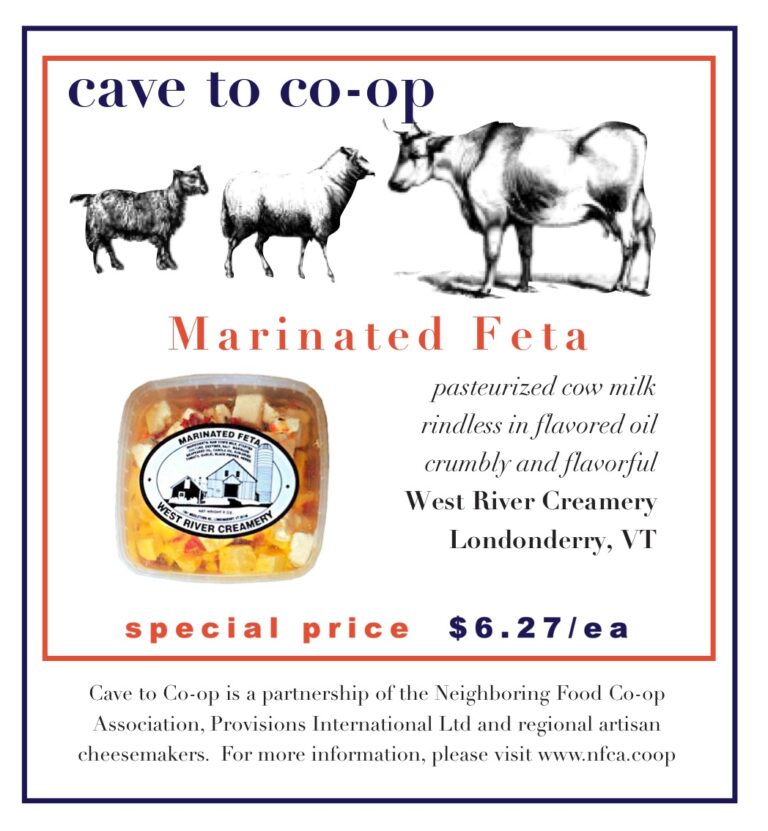 Charlie and Jane Parant, the owners and cheesemakers, of West River Creamery have always been involved in agriculture and have been making cheese since the 1980s. Originally making cheese at Middletown Farm and buying sheep milk from a New York sheep co-op, Charlie and Jane like so many had to pivot to making cheese at a different dairy after the farm changed hands.
A variety of goat, cow, and sheep milk cheeses are produced at this small family operation where Charlie and Jane, and their adult children, Mathew and Allison, are involved in all areas of production, marketing, and affiance. Charlie and Jane use a traditional feta recipe, the cheese is brined for several months before being packaged in the marinade for sale.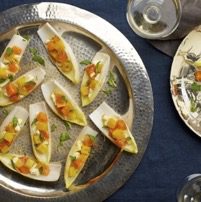 West River Marinated Feta is made from pasteurized, Guernsey cow milk; marinated in grapeseed oil, sun-dried tomatoes, garlic, and herbs. The perfect feta for summer salads.
This feta can be used in multiple ways. Check out this recipe for a Classic Feta Dip or these Endive Cups with Beets, Persimmons & Feta along with the recipes below.
Roasted Red Pepper Dip w/ Marinated Feta & Olives

Ingredients
5 red peppers, quartered lengthways, stem, pith & seeds discarded
2–3 vine tomatoes, halved
1 red chili, stem removed
1 red onion, peeled and cut into six wedges
⅓ cup olive oil
Salt and black pepper
6 garlic cloves, peeled
2 oz blanched almonds, well-toasted & roughly chopped
6 oz West River Marinated Feta, roughly crumbled
1 T cumin seeds, toasted & roughly crushed in a mortar
1 T coriander seeds, toasted & roughly crushed in a mortar
1 lemon, segmented
2 oz pitted green olives, roughly chopped
1½ tbsp cilantro, roughly chopped
Directions
1.Heat the oven to 465ºF Put the pepper quarters, tomatoes, chili, onion, two tablespoons of oil from the marinated feta, a half-teaspoon of salt and plenty of pepper on a large oven tray lined with baking paper and toss to combine. Roast for 20 minutes, give everything a stir, then add the garlic cloves and roast for 15-20 minutes more, or until everything is softened and colored.
2.Leave to cool, then peel the peppers and tomatoes, and discard the skins.
Transfer everything to a food processor, add the almonds, feta, half the ground toasted spices, 2 tablespoons more of oil leftover from the marinated feta, a quarter-teaspoon of salt, and a good grind of pepper, and blitz smooth. Refrigerate to cool completely (and set slightly).
3.Meanwhile, using a small, sharp knife, trim the top and tail off the lemon. Cut down along its round curves, removing the skin and white pith as you go. Release the segments from the lemon by slicing between the membranes, then roughly chop each segment in 2 or 3 pieces.
Put these in a bowl with the olives, coriander, the remaining two tablespoons of oil and the remaining ground toasted spices, and mix to combine.
4.To serve, spread the dip on to a wide, shallow plate and spoon the olive mixture into the center.
Artichoke & Marinated Feta Tart

Ingredients
⅓ cup heavy cream
4 oz West River Marinated Feta, divided
salt and pepper
14 oz sheet or 17..3 oz pkg puff pastry, thawed in fridge
flour
2 4-oz jars marinated artichoke hearts, drained, halved
2 T olive oil
1 large egg, beaten to blend
Directions
1. Preheat oven to 425°F. Blend cream and 2 ounces feta in a food processor until smooth; season with salt and pepper.
2. If using 14-oz package of puff pastry, cut in half and roll out each half on a lightly floured surface into a 16×10″ rectangle. (If using 17.3-oz package, use 1 sheet of pastry for each tart.) Transfer each piece of pastry to a parchment-lined baking sheet. Using a paring knife, lightly score pastry (do not cut all the way through), leaving a 1″ border.
3. Spread feta mixture over pastry, dividing evenly and staying within border. Arrange artichoke hearts over feta mixture and crumble remaining 2 ounces feta over; drizzle with oil. Brush pastry border with egg.
4. Bake tart until pastry is puffed and beginning to brown, 10-15 minutes. Reduce oven temperature to 375°F and continue to bake until pastry is deep golden brown and cooked through, 20-25 minutes longer. Serve warm or at room temperature.