Our Cave to Co-op for February 2020 is Lake's Edge—a bloomy rind, pasteurized farmstead goat milk cheese by Hannah Sessions and Greg Bernhardt, cheesemakers at Blue Ledge Farm, Salisbury, Vermont.

Hannah and Greg believe in a food system that is based on a cornerstone of respect for the land, the animals, and the consumer as well as the local community. They both celebrate the opportunity to raise healthy, contented animals and make great cheese!
Blue Ledge Farm began as a dream in Florence, Italy, where Greg and Hannah met while studying the art and culture of Europe. In 2000, at the tender age of 23, the two began the work of transforming an old cow dairy farm back into production with goats. The barn, which once housed seventy Holstein cows, would now be home to Alpine and La Mancha dairy goats. They began milking four goats at Blue Ledge Farm and began processing cheese two years later. Today Hannah and Greg milk over one hundred goats and produce eleven types of cheese, from very fresh to semi-aged bloomy rind cheeses, to harder cheeses aged three months. True to their mission with a focus that is always on sustaining a high-quality, consistent product with lots of attention and gentle handling.
Hunger Mountain Co-op featured Blue Ledge Farm as their Featured Vendor in December 2018. You can read their more in-depth interview here.
The 150 acres of Blue Ledge Farm consists of woods, hay-land, pasture, and wetland. In 2004 they financed the cheese room construction by selling development rights to the Vermont Land Trust, thereby ensuring that the land will always be open and never developed. In 2009, wetlands were identified as one of the farm's important natural resources, and so they agreed to conserve those fifty acres of wetland and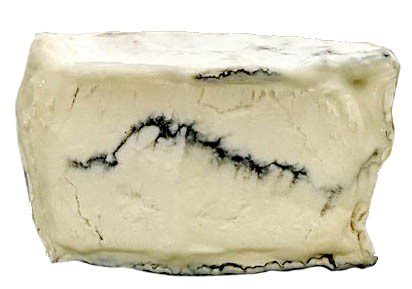 return them to their natural state as a valuable part of the local ecosystem. The goats spend their spring, summer, and fall days browsing in the woods, return to the barn for 4 pm milking, and lounge around in a grass pasture as evening sets. Blue Ledge goats live a life of luxury, and as Greg and Hannah run from job to job across the farm, they sometimes wonder who works for who!
Lake's Edge is Blue Ledge Farm's signature cheese: a dramatic ash-veined goat cheese aged for three weeks and named after the stones found along Lake Champlain. Lake's Edge is a beautiful cheese with a centerline of ash that contrasts with the chalk-white of the paste. The texture is rich and creamy, denser towards the center, and the flavor is the perfect balance of sweet, salty, and tart. We recommend slowly devouring its deliciousness with nothing more than a fresh crusty baguette.