Our Cave to Co-op for April 2020 is Mad River Blue— an organic cow milk, natural rind cheese by Sebastian von Trapp, cheesemaker, von Trapp Farmstead, Waitsfield, Vermont.
From 1959, when Werner and Erika von Trapp purchased the von Trapp Farm, it has been a working dairy. Throughout three generations, the farm has transitioned to a certified organic dairy and, in 2009, added cheese making to the value-added operations. Striving for high-quality standards, the von Trapp Farm produces some of the sweetest organic milk for its premium cheese production. The family is committed to making the highest quality cheese with the best milk possible, using traditional methods of small-scale production, and continually striving to improve. Their mission is to be one example of how to make a small family farm in the center of Vermont economically viable by producing delicious organic small-batch cheeses.
In 2015, Mad River Blue won a Good Food Award. These awards celebrate the accomplishments of authentic food producers who combine great flavor with environmental and social responsibility. The cheese is appropriately named for a variety born in the Mad River Valley. In 2016 Mad River Blue won second place at the American Cheese Society Awards and first place in 2019!
Mad River Blue is a natural rinded blue aged for approximately three months. It is made with the farm's certified organic cow milk. This blue is very approachable with a mild blue bite but interestingly complex flavor profile and unique creamy texture.
Check out these delicious recipes!
RECIPES
Warm Chocolate Cakes with Mad River Blue

Serves 4
Preheat oven to 400°
Ingredients
melted butter and cocoa powder for the ramekins
4 oz dark chocolate
4 oz unsalted butter, cubed
½ cup sugar
2 large eggs and 2 egg yolks
½ cup unbleached flour
2 oz Mad River Blue, crumbled
Directions
1. Brush the inside of four 4-oz ceramic ramekins with butter and dust with cocoa. Press a few bits of Mad River Blue into the sides of the ramekins. Put the ramekins in the freezer while you make the recipe.
2. Melt the butter and chocolate, stirring until very smooth.
3. Using an electric mixer, beat the sugar, eggs, and yolks for 3-5 minutes until double in volume and very thick. Gently fold in the flour and the remaining blue cheese, leaving four larger pieces aside.
4. Remove the ramekins from the freezer and evenly fill with batter, Place the remaining cheese evenly on top of each. Place ramekins on a baking tray and bake for 12 minutes. Remove from the oven and let sit for 1 minute.
5. Serve in the ramekins or gently unmold them upside down on serving plates. Dust with confectioner's sugar.
Classic Wedge Salad w/Blue Cheese Dressing
Serves 4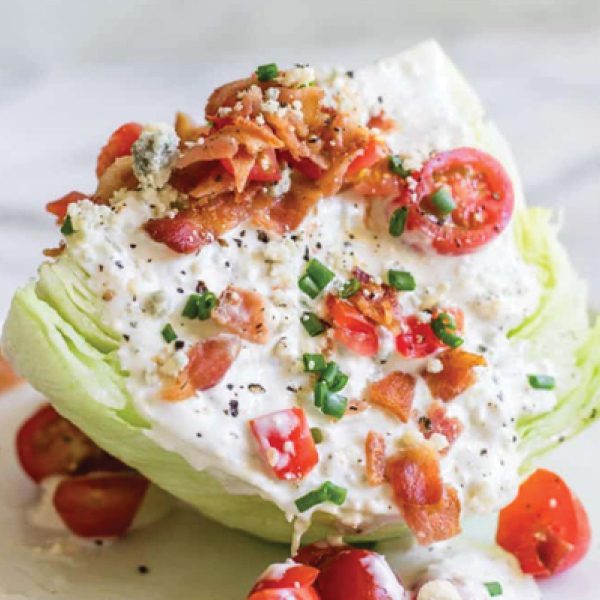 Ingredients
1 cup sour cream
½ cup mayonnaise
3 T buttermilk
3 tsp red wine vinegar
½ tsp Worcestershire sauce
4 oz Mad River Blue, reserve a few chunks for garnish
salt and pepper
1 head iceberg lettuce
4 strips of bacon, cooked and crumbled
4 medium tomatoes, cut into wedges or halved cherry tomatoes
handful of diced chives or parsley
Directions
1. Add the first 6 ingredients to a medium bowl and stir well to combine. Refrigerate for at least 30 minutes.
2. Remove any limp outer leaves of the lettuce head and then cut in half, then cut each half into quartered wedges. Place each wedge on a plate, drizzle with the blue cheese dressing, top with a few crumbles of bacon, a sprinkling of herbs and reserved blue cheese chunks and add a few wedges of tomato on the side. Give one more sprinkle of freshly ground black pepper and serve.
Smitten Kitchen's Fried Egg Sandwich with Mad River Blue & Bacon

Serves 2
Ingredients
2 ciabatta rolls
1½ cups frisée (French curly endive), torn into bite-size pieces
1 bacon slice, preferably thick-cut
1 tablespoon minced shallot (from 1 small)
1 teaspoon smooth Dijon mustard
4 teaspoons red wine vinegar
salt and freshly ground black pepper
¼ cup crumbled Mad River Blue
1 to 2 teaspoons unsalted butter, divided
2 large eggs
Directions
1. Split your rolls and put them in to toast.
2. Place frisée in a medium bowl. Cut bacon crosswise into ¼-inch wide lardons. In a small heavy skillet, cook bacon over moderate heat until pieces are crisp. With a slotted spoon, transfer bacon to paper towels, reserving bacon fat in the pan. Add shallot to bacon fat and cook for one minute, stirring. Add red wine vinegar and let hiss and bubble for 20 to 30 seconds, then remove from heat and whisk in Dijon.
3. Immediately pour hot dressing over frisée and toss with drained lardons, salt, and pepper. Remove rolls from toaster and divide bacon-frisée salad between each bottom bun. Top each salad pile with half of the blue cheese.
4. Reheat skillet over medium-high heat. Add the butter and swirl it to coat the pan. Crack one egg into the skillet, season with salt and pepper, and reduce heat to medium. Cook to your liking. Remove the egg from the pan and place it on top of the bacon-frisée salad on the bun. Repeat with the remaining egg.