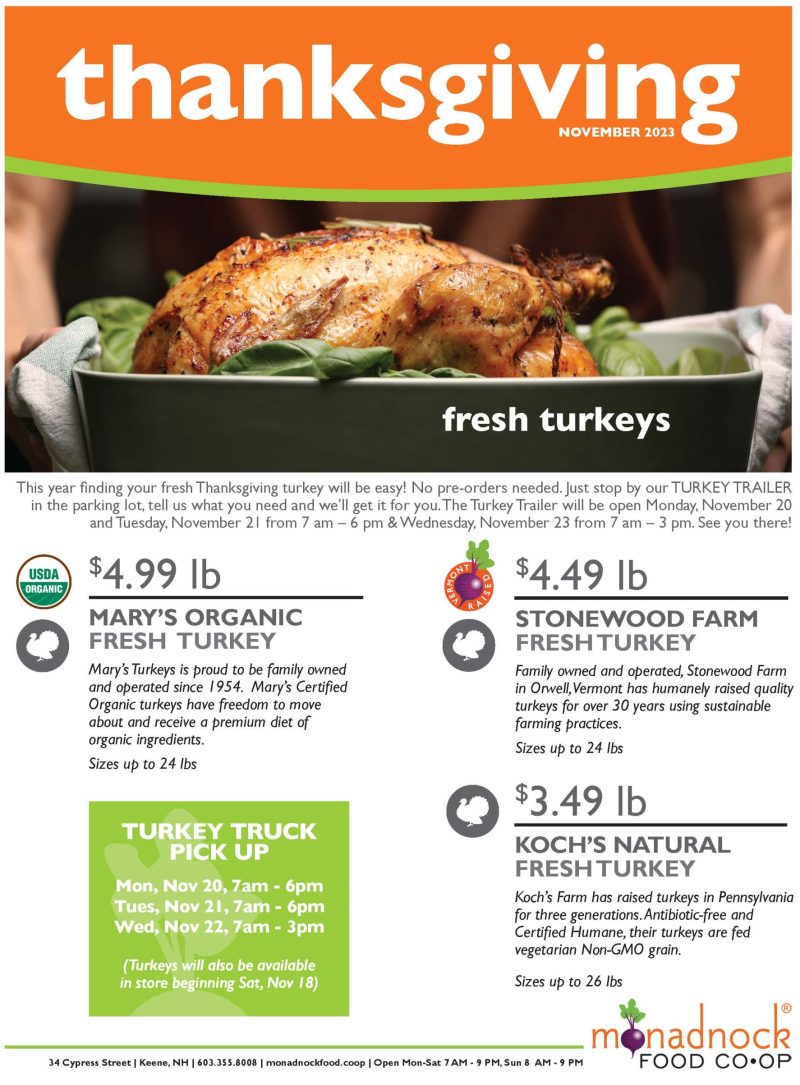 This year finding your fresh Thanksgiving turkey will be easy! No pre-orders needed. Just stop by our TURKEY TRAILER in the parking lot, tell us what you need and we'll get it for you. The Turkey Trailer will be open Monday, November 20 and Tuesday, November 21 from 7 am – 6 pm and Wednesday, November 22 from 7 am – 3 pm. See you there!
Thank you so much for shopping for your holiday needs with us!
Have turkey questions?
Please reach out to the Meat & Seafood Department at 603-283-5417.
Fresh Thanksgiving Turkeys
Koch All Natural from PA – $3.49/lb (10-26 lbs)
Mary's Organic from CA  – $4.99/lb (8-26 lbs)
Stonewood All Natural from VT – $4.49/lb (12-30 lbs)
Also available in our Meat & Seafood Department
Koch All Natural Bone In Turkey Breast – $5.99/lb
For all of your other holiday needs like saxy chef pies and rolls we will not be taking pre-orders this year as the volume we sell has reached a level where pre-orders will not be offered. Rest assured we'll have an abundance of pies, sides, and more in stock, so you can still enjoy all your favorite treats. Get ready to savor the holiday season!