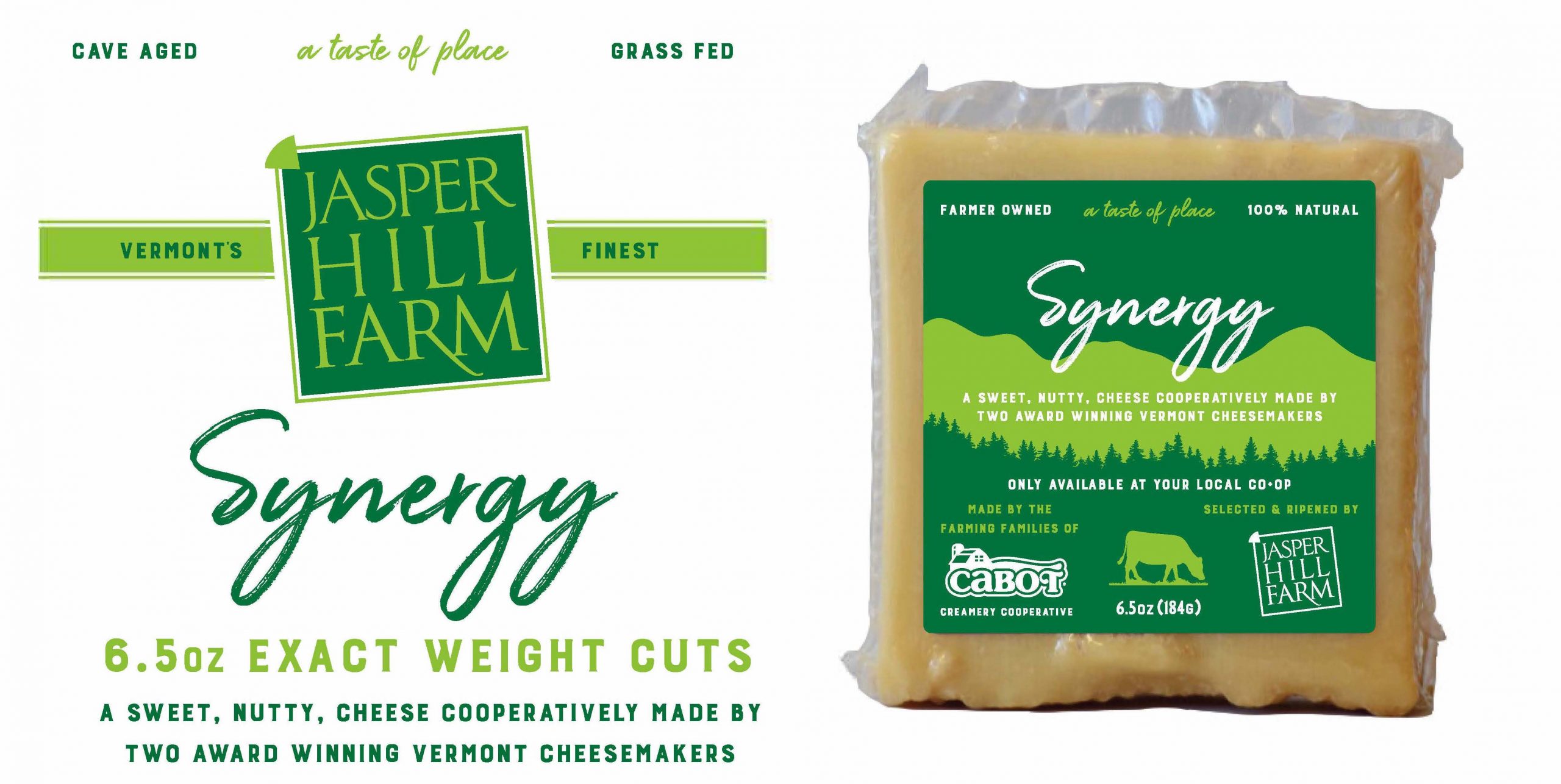 Only at your local co-op!
Jasper Hill Farm Synergy Cheese: A sweet & nutty cheese cooperatively made by two award-winning Vermont Cheesemakers ($6.99, 6.5 oz)
This collaboration embodies the cooperative spirit and synergistic relationship between Jasper Hill Farm and Cabot Creamery Co-operative.
Synergy has a sophisticated yet mild flavor, it is great for melting and using in recipes. It pairs best with La Riojana Fairtrade Pinot Noir Reserve — a wine co-op.
Synergy is produced by Cabot Creamery Co-operative and aged in the Cellars at Jasper Hill Farm in Vermont.  Support the cooperative economy and try this cheese!
Jasper Hill Farm is committed to preserving Vermont's working landscape. On-farm, underground aging vaults are used to cave-aged cheeses made by Jasper Hill as well as three other farmstead cheesemakers and select products from Cabot Cooperative. The Cellars' seven vaults comprise a piece of infrastructure designed to add as much value as possible to the region's raw materials.
Cabot Creamery is one of the oldest family farm cooperatives in New England, primarily known for their world-class line of cheddars. Jasper Hill works with Cabot graders to hand-select vats of young cheese that are suited to graceful cave-ripening. Upon arrival to 'Vault 5', a temperature and humidity-controlled cave within The Cellars, blocks are coated with lard, brushed, and turned in order to cultivate a living natural rind. These traditional methods impart unique complexity to the developing cheese.
La Riojana, located in the beautiful Famatina Valley, deep in the heart of La Rioja province with a family of 500 growers, is Argentina's largest wine co-operative and is one of the country's top 10 wine exporters, producing a wide variety of award-winning Fairtrade and Organic wines for markets all over the world.