Textile Recycling Drive at the Co-op
October 21 @ 9:00 am

-

11:00 am

Free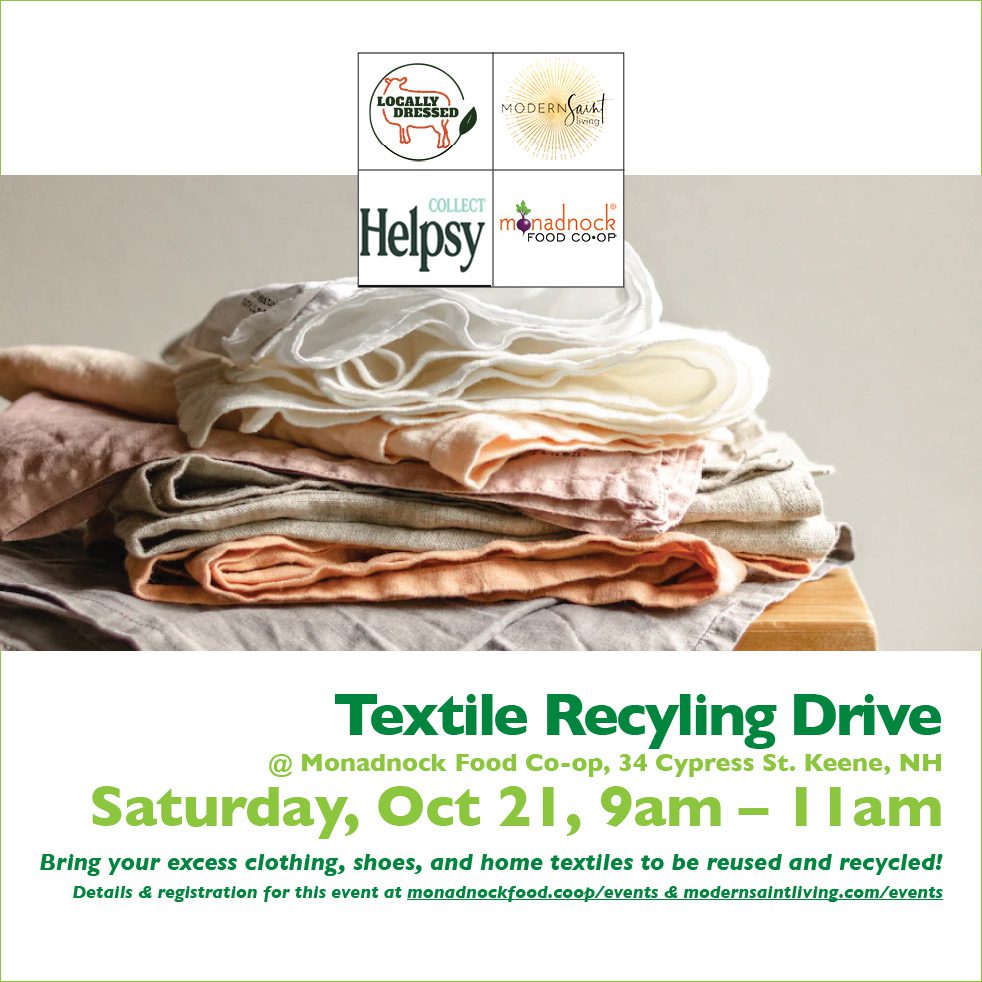 *Please register to reserve your donation slip! You can register here, or on eventbrite
Did you know Americans alone send 10 million tons of clothing to the dump each year?
Donate your unwanted textiles so they can be recycled into new products.
Modern Saint Living has been running this event in CT for 6 years and to date have saved 8,483 lbs from the landfill. We are so excited to be offering this in Keene, NH by partnering with Collection Helpsy.
Collection Helpsy is a Public Benefit Corporation and a Certified B Corp with an environmental mission. They are the largest textile collection company in the Northeast US.
Items We Recycle:
Clothing
Tops (T-shirts, blouses, shirts, tank tops), Sweaters, Sweatshirts, Dresses, Outerwear (coats, jackets, blazers), Bottoms (pants, slacks, jeans, sweatpants, skirts, shorts), Suits, Socks, Pajamas, Bathing suits, Leggings/Tights, Slips, Bras, Underwear
Household Linen
Sheets, Blankets, Towels, Curtains/Drapes, Aprons, Dish cloths, Cloth napkins, Table linens, Comforters, Throw rugs, Decorative pillows, Placemats
Footwear
Shoes, Heels (wedges, pumps), Flats, Sandals, Flip Flops, Boots (work boots, dress boots, winter boots), Sneakers, Cleats, Slippers
Accessories
Hats, Bags (pocketbooks, backpacks, duffle bags, totes), Belts, Gloves, Ties, Scarves, Bathrobes
Other
Stuffed animals and other plush toys, Halloween costumes, Sports jerseys, Rags (non-contaminated)
Unsuitable For Recycling:
Small scraps of cloth or shredded items, Non-textile and non-shoe, Wet items, Dirty items, Anything contaminated by oil, grease, or any other chemical, Items that are covered by large amounts of animal dander or fur, All items contaminated by food or waste products, Recyclable metal, paper, and plastic (all of which should be taken to their respective town recycling facilities), Construction waste, Carpeting, Bed pillows, Mattresses, Furniture
If you cannot make the event please contact Nichole at modernsaintliving@gmail.com