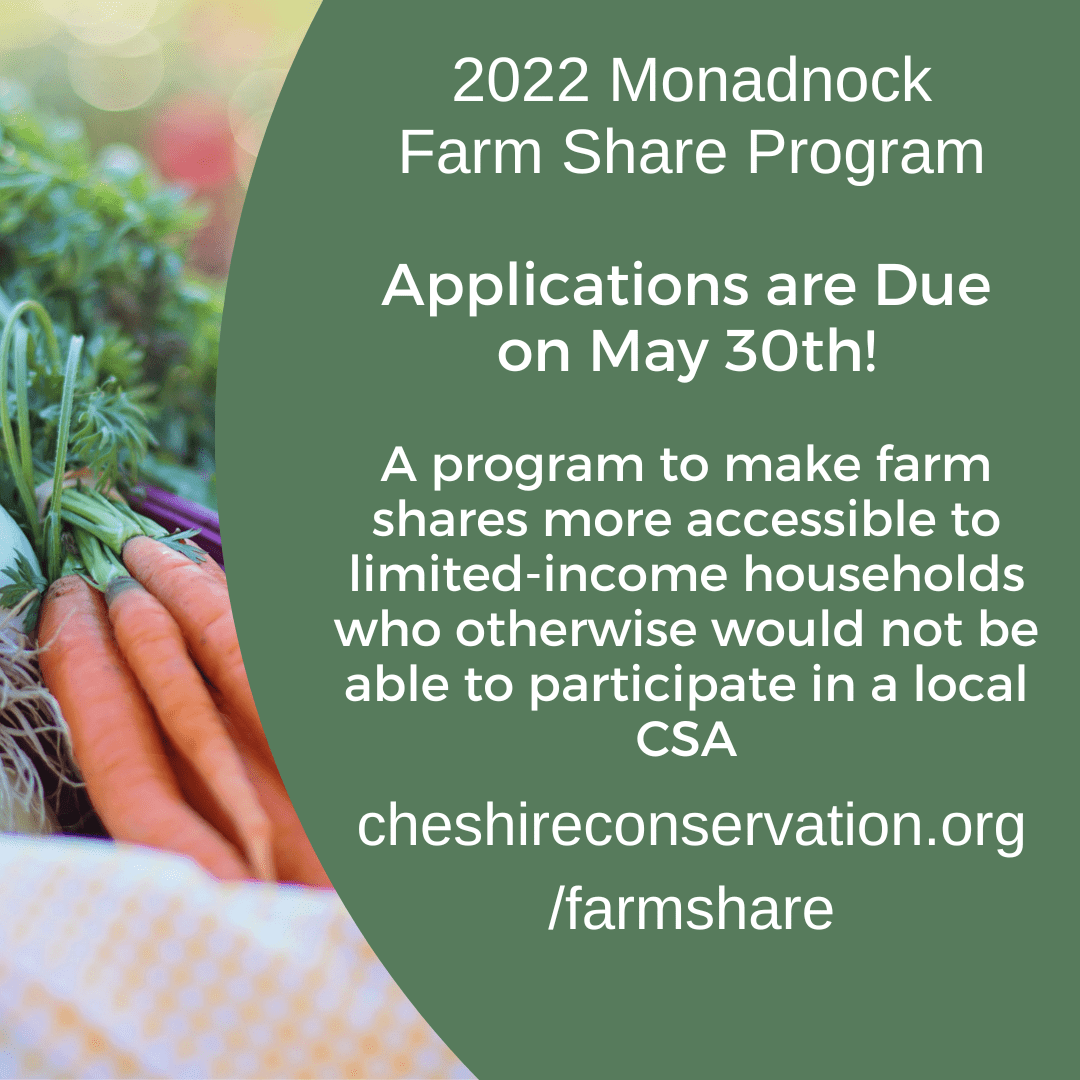 The Monadnock Farm Share program makes farm shares more accessible to limited-income community members who otherwise would not be able to participate in a local Community Supported Agriculture (CSA) program.
CSA programs are an opportunity for community members to enjoy farm-fresh produce while supporting local agriculture.
Community members pay 50% of the total farm share cost through the program. View program eligibility here.
This year's applications are due by May 30, 2022, and Cheshire County Conservation District will review applications on a rolling basis (first come, first served).
Community members choose from a listing of participating farms throughout the region.
Access this year's program information & eligibility, application, and participating farm list below:
Program Information and Eligibility
What is a CSA?
Farmers face many costs in the operation of their farms. Community Supported Agriculture programs alleviate the financial burdens of farmers before the season begins. CSA customers provide an upfront payment to reserve a share of the season's harvest.
The cost of the CSA serves as a deposit for the season! This upfront cost allows farmers to purchase needed seeds, materials, or equipment for the upcoming season. At the same time, customers can reap this investment by taking home delicious produce once the farm season begins!
Many farms offer half share or full share CSA options. These options vary from farm to farm, but half shares are smaller to feed smaller households, while full shares can feed a larger household or households that eat a lot of vegetables.
Some farms offer on-farm pick-up days, while others provide delivery! Some farms pre-package their CSA shares for a quick pick up, while others allow customers to pick-your-own (PYO!). Pick-up days offer a unique experience to see where your food is grown and interact with other community members! While delivery offers a convenient way to bring fresh produce to your household!
By purchasing a CSA, you support local agriculture while also eating delicious, nutritious, and locally grown produce!
For additional information, questions, or assistance in completing your application, contact Benée Hershon at benee@cheshireconservation.org or 603-756-2988 x 3011.