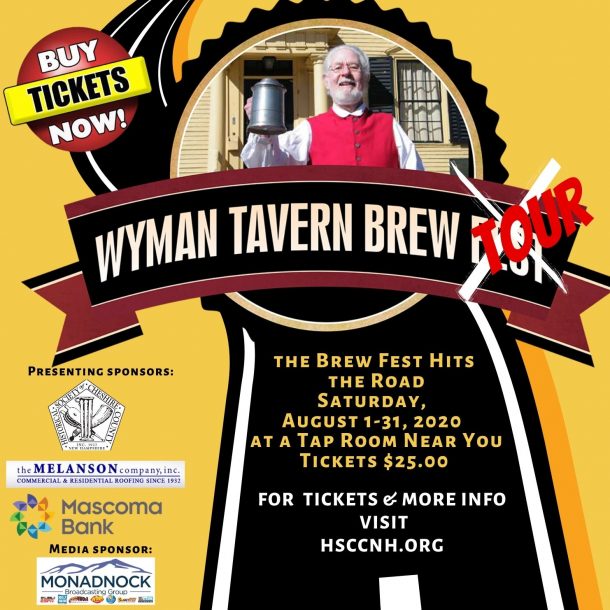 Co-op Wyman Tavern Brew Fest Raffle
Enter our raffle for a chance to win a $100 gift card to Monadnock Food Co-op!  Here's how: Share a photo via social media of your visit to one of the fourteen establishments participating in this year's Wyman Tavern Brew Tour and use the tag #wymantavernbrewtour.  Then email us a link to the post (to make sure we see it!).  We'll add your photo here — stay tuned!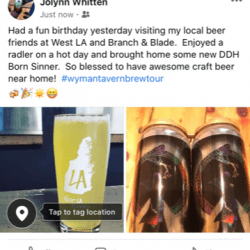 ---
Over the past five years, the Wyman Tavern Brew Fest has become one of the signature fundraising events for the Historical Society of Cheshire County, and it has been a highlight of Downtown Keene's summer season. However, this year for safety reasons the Historical Society will not be hosting the Brew Fest in person.
This summer the Brew Fest will take the form of a "Brew Tour" throughout the entire month of August. Tickets for the Wyman Tavern Brew Tour are $25, and ticket holders will receive a T-shirt* and a map of fourteen of the region's best craft breweries, distilleries, restaurants, and beer stores. Participating establishments will offer special deals for ticket holders when they stop by to visit. Ticket holders will also be entered in drawings for raffle prizes.
*T-shirts will be available for pick up in September (we will notify you when they are ready) or you can pay a little extra (+$7.50) and they will be shipped directly from our vendor partner, Bulldog Design, Keene NH.
What else do you need to remember for the Wyman Tavern Brew Tour?
Remember, bring your ticket, designated driver, and your valid photo identification to each participating location.
The Brew Fest will return to the Wyman Tavern in 2021, and in the meantime, Brew Fest fans can explore some of the establishments that are making the Monadnock region a noteworthy destination for craft brews and spirits. Tickets for the Wyman Tavern Brew Tour are available and don't forget to bring a designated driver when you are touring.
The Historical Society of Cheshire County has been collecting, preserving, and communicating the history of the region for 93 years. In 2019, the Society produced 174 programs that reached over 13,000 people, 29% of whom were children. Since the COVID-19 pandemic hit, the staff of the Historical Society has been working hard to deliver local history stories online.
Thank you for your support!