By Liza Drew, Keene State College Dietetic Intern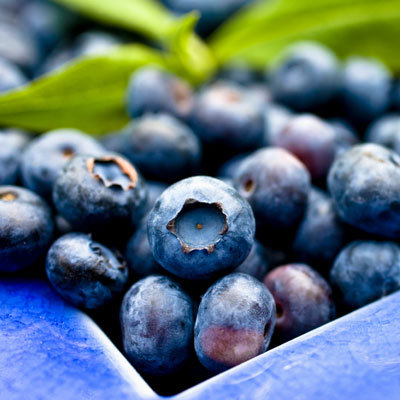 Flavorful Fact: The bright blue pigment in blueberries is called Anthocyanin, and is a powerful antioxidant. It has such a strong color that the Shakers used to paint their homes with a mixture of blueberry skins, sage blossoms, indigo, and milk.
Blueberry season is here, and with it comes sticky blue fingers and endless blueberry recipes to try. Wild blueberries grow abundantly in New Hampshire and offer a sweet reward to hikers, canoeists and kayakers. I bring along an empty yogurt container whenever I go on an outdoor adventure this time of year because you never know where you'll find a berry-covered bush. Blueberries are one of the few truly native fruits of North America, and when the Colonists arrived, they tried adding the berries to many traditional English desserts or "puddings". Most blueberry desserts require baking, but turning on a hot oven in an already sweltering August kitchen is often the last thing you want to do. This Blueberry Grunt is made on the stovetop and can be adapted using any seasonal fruit. The grunt gets its name from the sound the dessert makes as the dumplings steam in a covered pan. Serve it with ice cream or a splash of un-whipped cream.
Try this Recipe: Blueberry Grunt