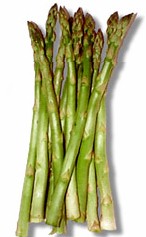 Ingredients:
1 pound asparagus
4 local eggs
2 tbsp. milk
2 tbsp. butter
Parmesan or other hard cheese
Salt and pepper
Fresh chives
Preparation:
Preheat oven to warm. Break ends off of asparagus by bending them gently until they snap. Set the tender ends aside pointing the same direction.
In a small bowl, beat the eggs and milk with a fork.
In a large skillet, bring an inch of salted water to a boil over high heat. Add asparagus and cook until just tender, about 1-2 minutes. Lift asparagus out of skillet and drain water from skillet. Return asparagus to the pan and toss with 1 tbsp. butter. Transfer to a serving platter and keep in warm oven as you cook the eggs.
Melt the remaining tablespoon of butter in the top of a double boiler over barely simmering water. Add egg mixture and cook slowly stirring constantly with a rubber spatula or wooden spoon. Allow the eggs to form a creamy mass by cooking them for 3-5 minutes. Season with salt and pepper.
Spoon soft eggs over warm asparagus and sprinkle with chives and freshly grated cheese.
Adapted from: Fresh From the Farmers' Market by Janet Fletcher 2008.