Pizza Night Fundraiser for Orchard Hill Breadworks
Tuesday, August 20, 2013 at 5 PM ~ Rain or Shine
Bring pizza sauce, cheese, and toppings…and all your friends to Orchard Hill Breadworks!
All proceeds to benefit construction of a new oven and outdoor pizza pavilion.
From Orchard Hill Breadworks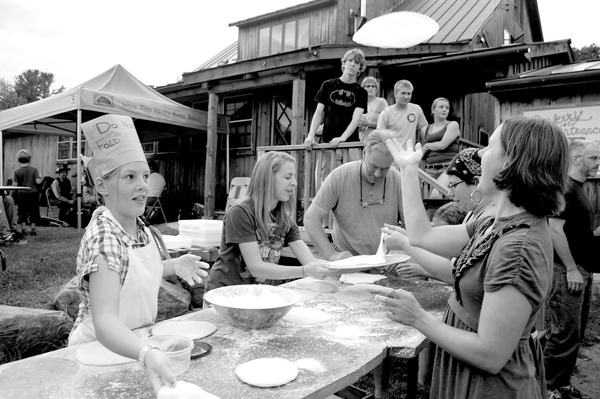 The History:
In June of 2007, our friend Eric suggested Orchard Hill start hosting a family pizza night. That first summer our little party turned into a rather large party, and anyone who's been to pizza night in the past couple years knows that the large party has grown into a popular weekly summer tradition….with a twist! In 2009 we re-invented the community potluck and started charging a few bucks more so that we could donate 100% of our profits to local nonprofit groups trying to raise some cash.
In all we've raised almost $30,000, and on our busiest nights we've counted as many as 250 guests, so all told we've served well over 5,000 people. Perhaps the most important thing of all is the tangible feeling of community that is created around the event.
The Future:
A New Oven. Our homemade mud oven is literally collapsing under its own weight. Not only have we outgrown its ability to bake the number of pizzas we need to bake, the core of the oven is almost completely collapsed. This winter we will construct a larger, stronger AND mobile oven so that pizza night can locate near cover when the weather dictates, or out in the sunshine when blue sky beckons.
A Pavilion! We have been incredibly lucky over the years with the weather, but 2013 has been very different! Of our first 6 pizza nights this season, 3 of them have been soaked. Our pizza night faithful have come and showed their support, but it is clear that the event has grown too big for things to stay as they are.
With the completion of this project, we hope Pizza Night will grow into a whole range of community-minded fundraising events centered around food, families and good cheer.